SIOS AppKeeper now available in the AWS Marketplace
Making it easier to add automated remediation to your DevOps environment.
Today we are excited to announce that our SIOS AppKeeper solution is now available on the AWS Marketplace, a digital catalog with thousands of software listings from independent software vendors that make it easy to find, test, buy and deploy software that runs on Amazon Web Services (AWS). Now it is easier than ever for end-users and AWS Partner Network (APN) members to try, acquire, and deploy SIOS AppKeeper to add automated remediation to their DevOps environments.  Click here to see AppKeeper in the AWS Marketplace.
SIOS AppKeeper continuously monitors and protects your applications running on Amazon EC2. We've been selling AppKeeper in Japan since 2017 and brought the SaaS service to the U.S. market earlier this year.  We created AppKeeper in response to the demand we were hearing from our customers who were moving to the cloud and were concerned about reducing potential downtime while struggling with limited resources. Click here if you would like to see a video on how easy it is to install and use AppKeeper.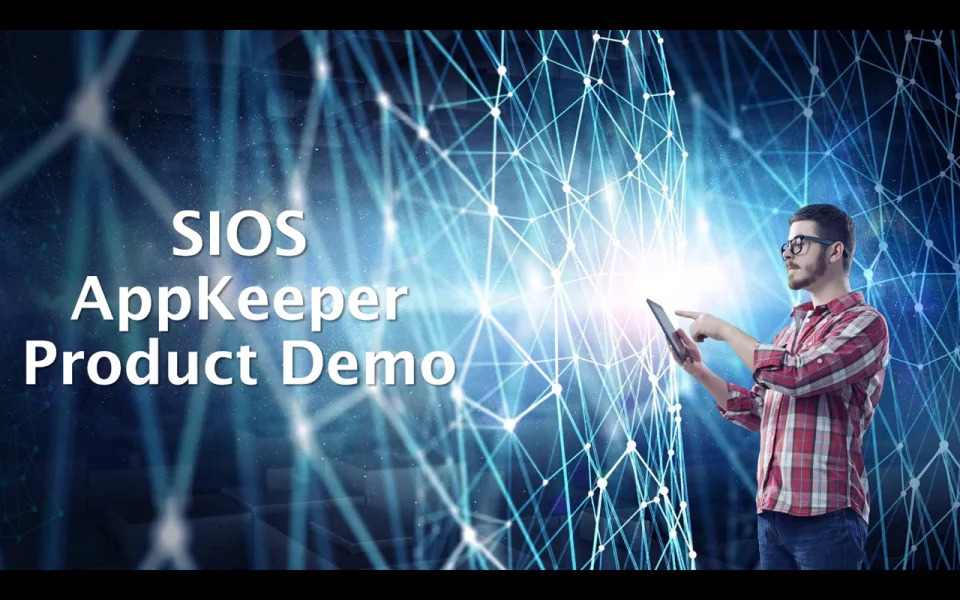 AWS EC2 Application Monitoring – SIOS AppKeeper | SIOS
How often are Amazon EC2 users experiencing downtime? According to our customer data, the average customer with only three Amazon EC2 instances experiences downtime at least once a month.  That could be due to software configuration mistakes, etc.
Going beyond application monitoring to offer automated remediation
Many AWS users are deploying application performance monitoring (APM) solutions, such as from AppDynamics, Datadog, Dynatrace or New Relic, to monitor their AWS environments.  But these only alert you to the fact that something happened, and why it happened. They don't do anything to anything to reduce your downtime.
That's where AppKeeper comes in. If AppKeeper detects downtime with any application services running on Amazon EC2 it automatically responds by restarting affected services and rebooting instances if necessary. AppKeeper addresses 85% of application service failures. Reducing the need for expensive outsourced monitoring or distractions for your IT team with automated recovery.  Learn more about APM automation from AppKeeper.
AWS customers who are already using an APM solution and want to extend the functionality to include automatic remediation, if and when Amazon EC2 downtime is detected, can take advantage of AppKeeper's webhooks API to integrate with their chosen APM solution.
Why we decided to list SIOS AppKeeper to the AWS Marketplace
Here at SIOS Technology Corporation we have had a strategic partnership with Amazon AWS since 2014, primarily around our SIOS DataKeeper and SIOS LifeKeeper high-availability solutions.  SIOS Technology is an APN Advanced Partner today, and we share 100's of joint customers.
Now that we have customer proofpoints for the effectiveness of SIOS AppKeeper (here are some recent case studies that you might enjoy), we wanted to make it easier for Amazon customers and APN partners to try, buy and use AppKeeper.  By many estimates there are over 200,000 active AWS customers using software from the AWS Marketplace, all of whom are taking advantage of how easy the AWS Marketplace makes it to discover, acquire and use complementary solutions as they continue on their cloud journeys.
And our friends at Amazon couldn't have said it better:  "As our customers migrate more and more applications to the cloud, they are looking for flexibility in balancing the level of availability with costs across all of their applications," said Chris Grusz, Director, AWS Marketplace, Amazon Web Services, Inc. "We're delighted to welcome SIOS AppKeeper to AWS Marketplace and to provide our customers with more choice when performance changes occur."
AWS customers who are interested in protecting their EC2 applications from unnecessary downtime can now quickly try out AppKeeper for themselves, and can acquire AppKeeper under their Amazon Enterprise Discount Plan, if they have one in place.  Pricing for SIOS AppKeeper starts at only US$40 per instance, per month.
Partners are now integrating AppKeeper into their customer solutions
A variety of partners are now integration AppKeeper into their customer solutions, and having AppKeeper available in the AWS Marketplace means it will be easier for APN members to evaluate if the solution is a fit for their business and their customers. Managed Service Providers (MSPs) are starting to include AppKeeper into how  they monitor and manage their customers' AWS environments, as a way to reduce downtime and their own operational costs.  Other ISVs are integrating AppKeeper's automated remediation functionality into their own cloud management solutions, and AWS Consulting Partners are packaging AppKeeper as they develop and deploy applications on AWS for their customers.
APN members who are interested in evaluating whether AppKeeper is a fit for their business should contact us by at email at d-yoshioka@us.sios.com.
We hope you will try out SIOS AppKeeper for yourself (we have a 14-day free trial and an easy installation process), and join the many customers who are now relaxing knowing that they have automated remediation in place to reduce any Amazon EC2 downtime that they might experience.